Chao-Yeh Chen


I've graduated in May 2016!
Currently I am a software engineer in Google Research working on large scale object recognition related projects.

I am a Ph.D. student in the Department of Computer Science at the University of Texas at Austin,
where I am studying computer vision under the supervision of Prof. Kristen Grauman.
Research Interests

Computer Vision and Machine Learning [CV].
Education

The University of Texas at Austin, TX, USA
Ph.D. Student, Computer Science (Jan 2011 - May 2016)

The University of Texas at Austin, TX, USA
M.S.E., Electrical and Computer Engineering (Aug 2008 - Jan 2011)
Thesis: Clues from the Beaten Path: Location Estimation with Bursty Sequences of Tourist Photos [pdf]

National Chiao-Tung University, Hsinchu, Taiwan
B.S., Electronics Engineering (Sep 2001 - Jun 2005)

Publication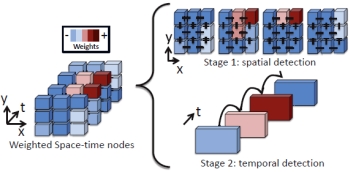 Efficient Activity Detection in Untrimmed Video with Max-Subgraph Search. C-Y. Chen and K. Grauman.
In IEEE Trans. on Pattern Analysis and Machine Intelligence (PAMI), April 2016.


Subjects and Their Objects: Localizing Interactees for a Person-Centric View of Importance. C-Y. Chen and K. Grauman.
In International Journal of Computer Vision (IJCV), October 2016
[pdf]



Atomic Scenes for Scalable Traffic Scene Recognition in Monocular Videos. C.-Y. Chen, W. Choi, and M. Chandraker.
In IEEE Winter Conference on Applications of Computer Vision (WACV), March 2016.
[pdf]

Divide, Share, and Conquer: Multi-task Attribute Learning with Selective Sharing, C.-Y. Chen*, D. Jayaraman*, and K. Grauman,
Springer book on visual attributes (Editors: Rogerio Feris, Devi Parikh, Christoph H. Lampert), 2016 (upcoming) [* indicates equal contribution]

Predicting the location of "interactees" in novel human-object interactions. C.-Y. Chen and K. Grauman.
In Asian Conference on Computer Vision (ACCV 2014), Singapore, November 2014.
[pdf][supp][project page]

Inferring Unseen Views of People. C.-Y. Chen and K. Grauman.
In Proceedings of the IEEE Conference on Computer Vision and Pattern Recognition (CVPR), Columbus, OH, June 2014.
[pdf][supp][project page][poster]

Inferring Analogous Attributes. C.-Y. Chen and K. Grauman.
In Proceedings of the IEEE Conference on Computer Vision and Pattern Recognition (CVPR), Columbus, OH, June 2014.
[pdf][supp][project page][poster]


Watching Unlabeled Video Helps Learn New Human Actions from Very Few Labeled Snapshots. C.-Y. Chen and K. Grauman.
In Proceedings of the IEEE Conference on Computer Vision and Pattern Recognition (CVPR), Portland, OR, June 2013. (Oral)
[pdf][project page][poster][slides]


Efficient Activity Detection with Max-Subgraph Search. C.-Y. Chen and K. Grauman.
In Proceedings of the IEEE Conference on Computer Vision and Pattern Recognition (CVPR), Providence, RI, June 2012.
[pdf][project page][poster]