Contents
Page-10
Prev
Next
Page+10
Index
Trees
A tree is a kind of graph, composed of nodes and links, such that:
A link is a directed pointer from one node to another.

One node, called the root, has no incoming links.

Each node, other than the root, has exactly one incoming link from its parent.

Every node is reachable from the root.
A node can have any number of children. A node with no children is called a leaf ; a node with children is an interior node.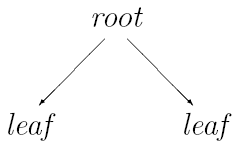 Trees often occur in computer systems and in nature.