Contents
Page-10
Prev
Next
Page+10
Index
PERT Chart
PERT, for Program Evaluation and Review Technique, is a project management method using directed graphs.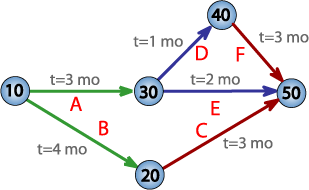 Nodes represent events, milestones, or time points.

Arcs represent activities, which take time and resources. Each arc is labeled with the amount of time it takes.

A node has the maximum time of its incoming arcs.

An activity cannot start before the time of its preceding event.

The critical path is the longest path from start to finish.

The slack is the amount of extra time available to an activity before it would become part of the critical path.