Hough Transform
Edges (boundaries between areas of different intensity) are important for image understanding. Edges are often approximately straight. However, they may be discontinuous, and there may be noise.
The Hough transform finds edges despite these problems.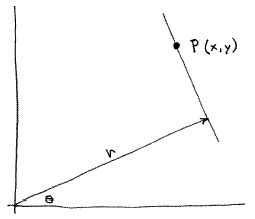 For each image feature (edge) point that is above a threshold, map that point to each (r, &theta) pair that represents a line through that point, and add 1 to the counter for (r, &theta) .

The (r, &theta) counters are histograms: high values indicate where lines are.

Identify the exact locations and endpoints of strong lines from the image.
Contents&nbsp&nbsp&nbsp Page-10&nbsp&nbsp&nbsp Prev&nbsp&nbsp&nbsp Next&nbsp&nbsp&nbsp Page+10&nbsp&nbsp&nbsp Index&nbsp&nbsp&nbsp