Behavior of Simulated Annealing
Temperature distinguishes classes of rearrangements:
High: large changes in objective function.

Low: small changes.
The random nature of the algorithm means that many possible avenues of improvement are considered simultaneously: an ``adaptive divide and conquer.''
The possibility of ``uphill'' moves at high temperature prevents getting stuck on local minima.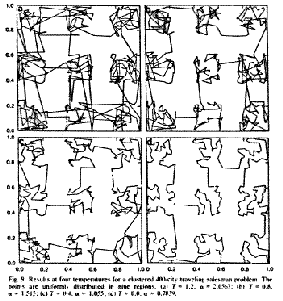 Contents&nbsp&nbsp&nbsp Page-10&nbsp&nbsp&nbsp Prev&nbsp&nbsp&nbsp Next&nbsp&nbsp&nbsp Page+10&nbsp&nbsp&nbsp Index&nbsp&nbsp&nbsp