Mathematical matrices are used to solve systems of linear equations. Matrices are used in applications such as physics, engineering, probability and statistics, economics, biology, and computer science. (especially in the area of computer graphics)
Matrices appear in the following form: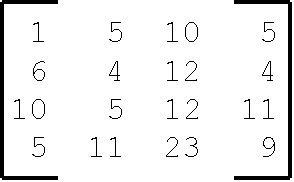 This matrix represents this system of linear equations:
x + 5y + 10z = 5
6x + 4y + 12z = 4
10x + 5y + 12z = 11
5x + 11y + 23z = 9
The above matrix has 4 rows and 4 columns, but the number of rows and columns do not have to be equal. In other words it does not have to a square matrix, only rectangular. Each entry can be an integer or real number. In the following examples I only use integers. In this explanation of the behaviors, I use the following notation for matrices.
a0_0 a0_1 a0_2 a0_3
a1_0 a1_1 a1_2 a1_3
a2_0 a2_1 a2_2 a2_3
a1_2 refers to the element in the row 1, column 2 In the actual matrix above that entry is equal to 12.