Map
A Google map widget is embedded below, showing all the FMCAD '16 event venues and various hotels marked. You can click and drag or zoom in and out with the scroll wheel to see more detail. You can also view the map directly on the Google Maps website.
More details will be added to this page as they become available.
Conference Location
FMCAD 2016 will be held in Synopsys Building B, on the Synopsys campus in Mountain View, California. The full address of the building is:
Synopsys Building B
690 E Middlefield Rd
Mountain View, CA 94043

The building can also be found on Google Street View. Here is a picture: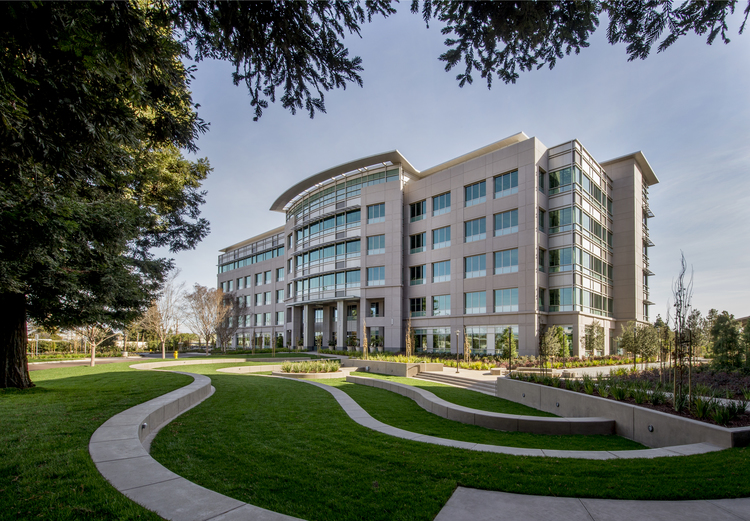 Transportation
The closest airport to the venue is Mineta San José International Airport (SJC). Other options are San Francisco International Airport (SFO) and Oakland International Airport (OAK).
You can get to your hotel or the venue from the airport by any of the following means: * SuperShuttle: is a shared-ride ground transportation option. You can pre-book your round-trip (airport to hotel and back) beforehand and save money. This is likely the cheapest option.
Cab: There are many cabs available for hire at any of the airports. You can also choose to get an Uber or Lyft ride.

Rental car: Various car rental companies have counters at the airports where you can rent a car for the duration of your stay in the area.

Public transport to the conference venue:
Transportation to the Banquet
On the evening of the third day of the conference (Wednesday, Oct 5), a banquet will be held at Testarossa Winery in Los Gatos, about a 30-minute drive south of the conference venue.
Three buses will pick up attendees from the conference venue at 4 pm and take them to the banquet. For the return trip back to Mountain View, buses will leave the banquet around 8 pm, and drop the attendees back at the conference venue and at one or two nearby hotels, as necessary.
If you plan to travel to the banquet by yourself, you should arrive there around 4:30 pm. Testarossa Winery is shown on the map higher up on this page, and the address is:
Testarossa Winery
300 College Avenue
Los Gatos, CA 95030

Accommodation
We have not reserved a block of rooms at any particular hotel, but the map at the top of this page contains several hotels within a reasonable distance of the conference venue. Most of them are close enough that using a rideshare service to go from your hotel to the venue should cost no more than about $10-$15. Several of the hotels provide a free shuttle service to Synopsys as well.