(logo by Janette Forte)
---
Homepage of the UT Austin Villa robot soccer teams from the Department of Computer Sciences
The University of Texas at Austin

Team leader: Professor Peter Stone
---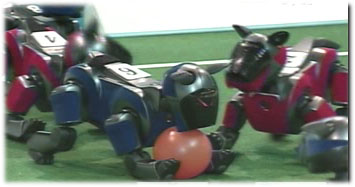 ---
---
Overview
We entered the American Open 2003 in Pittsburgh and RoboCup-2003 in Padua
with entries both in the Sony four-legged robot league and the soccer simulation league. Our research focuses on machine learning and multiagent systems.
Many research papers are available from Peter Stone's homepage.
---
Soccer Simulation League
Team Members In the soccer simulation league, teams of 11 independently-controlled software agents operate in the RoboCup Soccer Server System, a rich and challenging domain that incorporates many realistic features, including noisy sensors and actuators, limited vision, models of stamina, and limited inter-agent communication. Research challenges include strategic teamwork and multiagent learning.

We participate both in the main competition and the coach competition, in which an omniscient coach agent aims to improve the performance of a team of agents created by other programmers by giving strategic suggestions via a standardized coach language.

The most recent previous team entered by a member of this group was Peter Stone's United-2002 team.

Details of our 2003 team, including the binaries, can be found on our 2003 team page.
---
Sony Four-legged Robot League
Team Members In the Sony four-legged robot league, Sony Aibo robots compete, four on each team. Since the hardware is identical for all teams, the focus of this league is on robotic control, sensing (including computer vision), and localization algorithms, as well as on team coordination and strategic reasoning.

The CS395T class started with "out-of-the-box" Aibos and created a fully functional, competitive team in time for the American Open 2003 that took place at the end of April. Class members addressed all of the many research challenges involved in achieving this end, with the goal of generating an entirely new code base. Despite playing against opponents that had been working in the domain for at least a year and in some cases much longer, the team did respectably, scoring a goal, earning one point, and only losing to the eventual runner-up by a score of 2-0. Here is our video from the event.

At RoboCup 2003, we were placed in a very hard group and did not win any official games. But we won several practice games and were satisfied that we are well on the way to having a competitive team. Some aspects of our approach were validated nicely as we achieved the 4th best result (unofficialy) in the scientific challenge events, which do not require a fully polished team, but test the robustness of one's algorithms. Here is our 2003 team page which includes an extensive technical report and video from the event.

Here is our qualification material for RoboCup 2003.

Here is 6 minutes of video from 3 different news stations on 6/23/03 prior to Robocup 2003: (.mov) (.mpg). And here is some more from another station (.mpg) during RoboCup.

During the fall of 2003, we used a form of policy gradient reinforcement learning to create the fastest recorded walk on the Aibo to date. There is video of the walk as well as some documenation available on our learned walk page.

On March 6th, 2004, we opened our lab to the general public, including many fascinated children, as a part of the Universities open house called Explore UT. Here are some pictures from the event.

The UT web site has a story on our team.
---
Peter Stone
Go back to my homepage
Send me mail