Welcome to the Automated Software Design Research Group!
The future of software development is automating rote tasks. We are creating new ways in which software can be automatically developed, productivity increased, and quality improved. Our work covers both the theory and practical issues of:
| | | |
| --- | --- | --- |
| Software Product Lines | | Model Driven Engineering |
| Program Generation | | Refactorings |
| Domain-Specific Languages | | Metaprogramming |
Please check out our Papers, Awards, Students, and Downloads. If this is your first visit and you have questions on what is the best place to start, look at Getting Started. Click on Home Page to return to this page.

Check out the new text on Feature Oriented Software Product Lines !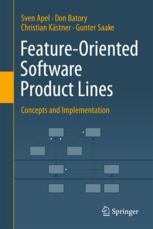 Recent Events and Upcoming Keynotes:
SPLC 2016 Test of Time Award (for my SPLC 2005 paper), to be presented at SPLC 2017
Conference Chair, Model Driven Engineering Languages and Systems (MODELS), September 2017
Keynote at Workshop on Modeling in Software Engineering (MISE), May 2016
Keynote at Workshop on Formal Methods in Software Engineering (FormaliSE), May 2016
Program Chair, 15th International Conference on Modularity, March 2016
Tutorial at 2nd Latin-American School on Software Engineering, July 2015
Keynote at 14th International Conference on Modularity, March 2015
Keynote at 7th India Software Engineering Conference (ISEC), February 2014
Distinguished Lecture, Department of Computer Science, Iowa State University, February 2014
Keynote at Conference on Software Language Engineering (SLE), October 2013
Keynote at Dagstuhl on Analysis, Test and Verification in the Presence of Variability, February 2013
Short Tutorial at Dagstuhl on Program Synthesis, April 2012
Keynote at Conference on Interactive Theorem Proving (ITP) August 2011
Co-Chair, Workshop on Refactoring Tools (WRT), May 2011
Keynote at Dagstuhl on Feature Oriented Software Development January 2011
Tutorial at 3rd RiSE Summer School on Software Reuse (RiSS) November 2010

Workshop Co-Chair, Variability Modeling of Software-Intensive Systems (VAMOS) January 2010
Keynote at First Workshop on Feature Oriented Software Development (FOSD) October 2009
Keynote at Conference on Software Engineering and Databases (JISBD) September 2009
Keynote at Conference on Software Engineering and Data Engineering (SEDE) June 2009
Keynote at Software Product Line Evolution Workshop February 2009
Keynote at Variability Modeling in Software-Intensive Systems January 2009
Keynote at Model Driven Engineering Languages and Systems (MODELS) October 2008
Workshop Co-Chair, First Workshop on Analyses of Software Product Lines September 2008
Keynote at Brazilian Symposium on Software Engineering October 2007
Tutorial at the Lipari School on Advances in Software Engineering July 2007
Keynote at Abstract State Machine (ASM) Workshop June 2007
Keynote at European Joint Conferences on Theory and Practice of Software (ETAPS) April 2007
Keynote at Principles of Programming Languages (POPL) January 2007
Other Announcements:
Overview pages on Feature Oriented Software Development (FOSD) have been added to Wikipedia!
My classic FOP tutorial is here FOP Tutorial Notes (1MB PDF file)
My most recent tutorial is here Design By Transformation (2.5MB PDF file)
Check out related projects on FOSD
| | |
| --- | --- |
| | I gratefully acknowledge the support of the National Science Foundation under NSF Grants OCI-1148125 and CCF-1212683. |
For further information, contact Don Batory