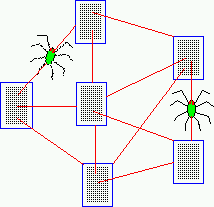 Instructor
Raymond J. Mooney, office hours: 11am-noon Tues and 3-4pm Thu, GDC 3.806
Office hours on Tuesday, October 15 will be from 1 to 2 p.m. instead of 11 a.m. to noon.
Office hours on Thursday, October 17 are cancelled.
Teaching Assistant
Angela Lin, Office hours: 1:30 pm-2:30 pm Mon, GDC 1.302, TA Station 5 and 11:30am-12:30 pm Wed, GDC 1.302, TA Station 3

Time and Place
Fall, 2019; TuTh 9:30-11:00 AM; GDC 5.302 (unique 50530)
General Course Information
Textbook
Introduction to Information Retrieval by Christopher D. Manning, Prabhakar Raghavan and Hinrich Schütze
Programming Projects
Exams
PowerPoint Presentations
Servlet Demos
Java Course Code
A jar file for the course Java code is available here.
JavaDoc for Course Code
Related Courses
Miscellaneous Links
Relevant Books Written for the General Public
---
mooney@cs.utexas.edu